Before Scott Chambers left the company that he was so instrumental in developing, we took the opportunity to chat with him about how he got started in business, the highs and lows of his career and his thoughts on the future.
Having worked in the mezzanine sector since the age of 24, Scott is the first to admit that leaving the industry will be a wrench. "I have genuinely loved working in the mezzanine floor industry," he says. "Anyone who knows me knows the passion and love I have for this business and I will miss it hugely."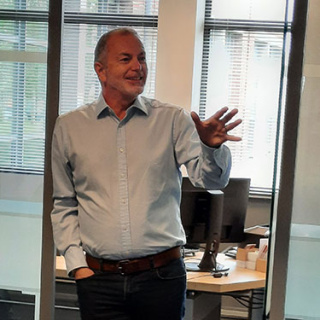 Scott began his working life as a draughtsman when he left school at the age of 17. His love for space invader games led him to experiment with programming on the early computers of the 1980s. When he moved into structural design in the mid-1980s, he began to write programmes to help with the design process. At the age of 20, he decided to go to university to study Engineering and was accepted on a course but at the last moment, on the advice of his boss, he applied for a job on the commercial side of the engineering sector. The post, advertised in the local paper, was for an engineer with Keith Hancock Structures, the original mezzanine floor company. "It was an introduction to commerce and I loved it," says Scott.
Soon he was writing programmes – now on an early Apple Mac – that attempted to design and cost mezzanines. "No-one else was doing it," he explains. "CAD had only just been invented." After a year, he switched to sales and soon became National Sales Manager. Realising that he could achieve a higher income by working for himself, he resigned at the aged of 24 in 1991. It was a Friday and he recalls being unceremoniously ushered off the premises! Undaunted, he bought a fax machine and an Amstrad computer over the weekend and the Monday morning saw the start of Hi-Level Design, operating from his back bedroom.
The first six months were spent writing design and costing programmes that he sold to mezzanine companies but Scott wanted to be in the mezzanine business himself. So he changed the name of the company to Hi-Level Mezzanines, brought in two partners and grew the business over the next 15 years. After selling it in 2006, he was required to stay out of the industry for a while but then went into partnership with Keith Loveday (father of Scott's successor as MD, Matt Loveday) and John Porter at Mezzanine International. Scott became Managing Director in 2014 and the company set up a German operation, Mezzanine Europe GmbH, in 2016. Both the UK and European businesses were acquired by MiTek®, a Berkshire Hathaway company, in 2017.
In terms of business activity, the acquisition by MiTek® was the highlight of Scott's career. "To go from working in your spare bedroom to selling your business to Warren Buffett – with all the due diligence that such a transaction entails – is quite something," he says. On a personal level, what stands out for him was being elected as President of the Automated Material Handling Systems Association (AMHSA), a post he held from 2019 to 2021. "That was probably the biggest honour for me," he says, "to lead the industry in that way and be recognised by customers and suppliers."
To what does he attribute his success in business? He says he's been lucky over his 32 years of company ownership. "I've never borrowed any money, or had a bank overdraft," he says. He adds, quoting Gary Player, that the more he practised, the luckier he got. He has a couple of business mantras that have stuck with him over the years. The first is an adage told to him in a pub at the age of 16: 'You can't spend a promise'. "I've used it thousands of times," he says. The other is the wisdom of Steve Jobs: "It doesn't make sense to hire smart people and tell them what to do; we hire smart people so they can tell us what to do."
On his decision to retire, Scott says: "It was always my intention to step down when the time was right and, with the company at the top of its game, that time has come. We have just had our best year ever, with turnover double that of our nearest competitor." The decision has not been an easy one, however. Scott, who admits to getting up at 4am most mornings to get stuck into emails, admits that he will miss the buzz of fast-paced business.
He considers himself fortunate to have many friends in the business – not only among staff and customers but also suppliers and competitors. "I've had an amazing journey and can't thank them enough," he says. "It's been fantastic for me and my family." He is a firm believer in doing the right thing in business. "Integrity matters," he says. "Loyalty, relationships and trust are values that are as strong now as they were 30 years ago."
How has the industry changed over those three decades, then? "When I started, it still tended to be small projects with an order size of £10-12,000," says Scott. "Our average order size last year was £1m." Whereas mezzanines of 100-200 sq ft were the bread-and-butter in the early days of Mezzanine International, now MiTek Mezzanine Systems regularly handles projects of 1 million sq ft over 5 or 6 levels.
"E-commerce has transformed the industry because the projects have all become huge," explains Scott. "The mezzanine product fits in brilliantly with automation and robotics, and the market has not peaked yet." Although technical aspects and performance in the mezzanine sector have changed, some things remain constant. "Customers still want everything fast," says Scott, "and construction methods are more or less the same across the industry as they were 30 years ago."
What does the future hold for MiTek Mezzanine Systems? "I'm delighted to be passing the baton of MD to Matt Loveday," says Scott. "Everyone in the industry who knows him will know that he's the right man for the position. He's driven in upholding our reputation for excellent quality, continuous innovation and business integrity. I'm confident that he and the fantastic leadership team we have at MiTek will continue to capitalise on the opportunities for growth that we have. MiTek is the only truly global mezzanine supplier and the possibilities are endless. It's been great to have the resource backing and confidence of the North American team over the past five years." He adds, "My departure is a celebration of what's in front of us, not what's behind us."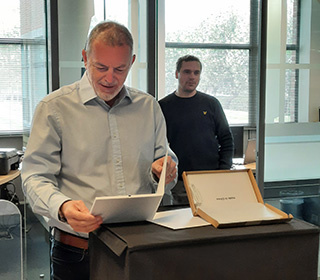 So, what will he do with his time in retirement? "I enjoy horse racing," says Scott. "I've got a racehorse and will probably buy another one. It's trained with Gary Moore and won three times last year." He also plans to play a bit more golf and to travel to watch his son, Calum, play football for Aston Villa. "I'm going to slow down and breathe and enjoy what I've got," he says, admitting, "work has dominated a lot of my life." Making space for family will also include spending time with his brand-new granddaughter.
Everyone at MiTek wishes you the very best in your retirement, Scott!