Mezzanine International has been in business since 1991, and in 2017 opened its European office in Cologne, Germany. In the same year the company was acquired by MiTek, a global provider of building solutions for the residential and commercial construction industries, who already owned a mezzanine business in North America. In late February 2020, the three mezzanine companies merged and formed the first global mezzanine company 'MiTek Mezzanine Systems'.
What benefits do you see in merging within a parent group?
The merger, and subsequent change of name, was a very logical step for us. The three companies that now trade under the MiTek Mezzanine Systems name were already operating in a very similar way to one another. Our Group works internationally, meaning we can supply markets anywhere in the world within very short time frames. We always offer the best local solution to ensure we comply to different regional regulations. Our global service network allows us to implement customer-specific requirements for individual continents, countries, or even states, as is commonplace in America. A large part of our role involves advising our customers so they can be sure they are adhering to the relevant political and geographic requirements. We take our customers' specifications and use them to build concepts that comply with local regulations. As far as I'm aware, this is a level of expertise that only MiTek Mezzanine Systems can offer, and that gives us a worldwide reach.
We've also merged our R&D departments, which in my opinion was a smart move. Our development capacity is now drastically larger, for example, for carrying out resistance and hard-wearing testing and working on brand new developments.
Why did MiTek Mezzanine Systems choose Cologne as its German base? Which markets will MiTek Mezzanine Systems serve from there?
Cologne gives us a prime location outside the UK. It lies at the heart of Europe, and the intra-logistics and e-commerce markets are booming in Germany. We can serve the entire European market from Cologne; for example, we have major projects in Norway, Sweden, Switzerland, France and Spain which are all currently running through our Cologne branch.
What about future projects and MiTek Mezzanine Systems' EU strategy, particularly in terms of planned expansion of EU business?
At the moment, we're working on strengthening our global portfolio of contacts for the entire European market. We're talking to our customers in many different EU countries to offer tailor-made, local solutions. We have a well-established supply chain, which means we can deliver both quickly and reliably and our Operational Director Keith Adlrich focuses on optimising supply chain capacities even further.
What are your predictions for the next two to five years?
Thinking about Central Europe, we expect demand for our products and services to grow enormously over the next two to five years, particularly within e-commerce, although we are also seeing growth in the intra-logistics market for the pharma and food sectors. Automation is also becoming increasingly important for all our customers. Fortunately, we've predicted the shift towards automation and are well prepared to respond to demand.
Which regions of Germany do you currently operate within, and who are your customers at the moment?
Our major projects are currently in Eastern and Southern Germany, but we are also supporting the construction of an enormous logistics centre in Hessen, in central Germany. Our customers are well-known e-commerce companies, as well as systems integrators.
There is one issue we can't ignore: how is the Coronavirus epidemic affecting MiTek Mezzanine Systems' business?
Big logistics providers need big logistics warehouses, especially during times of crisis. Our mezzanine systems are the ideal solution for this. Essentially, online shopping is experiencing significant growth at the moment.
We also noticed that our customers are using this time during the pandemic to think about expanding their logistics networks. Automation and robotics play a key role here. We have not seen any direct downturn, or even a drop in enquiries, and since our own supply chain is secure, we can continue to deliver our mezzanine solutions reliably whilst managing ongoing projects as agreed.
You mentioned the importance of automation and robotics for large logistics providers. Which MiTek Mezzanine solutions are most often requested and ordered by your customers?
It is clear that the most in-demand solutions are within robots. These are a key focus for all logistics firms. However, there is also significant interest from our customer base for other aspects of production automation, such as integrated conveyor belts. Then there are the specialist solutions that require extremely low deflection limits on mezzanine floors. Our product solution for this issue is the Mezzanine7, which achieves 75% less deflection than conventional mezzanine products.
What role did Brexit on 31 January play in MiTek Mezzanine Systems' strategic planning? Or will you be covered by your German GmbH operation?
Fortunately, we've explored this topic in great detail. After the Brexit referendum on 23 June 2016, we set up our GmbH company in Germany to deal with all enquiries throughout continental Europe, protecting against everything from supply chain security to differences in exchange rates. This allows us to offer our customers a worry-free experience.
Looking to the future, are the MiTek Mezzanine R&D teams working on new products for automation and robotics? What are the upcoming trends for MiTek Mezzanine Systems?
Of course research and development is always an ongoing process. Our R&D department is currently testing our products against the continuous operation of robots. This allows us to understand how wear occurs and how we can prevent it.
There are plenty of other aspects keeping our designers and engineers busy though, including safety and occupational health, fire protection and respective country- or region-specific regulations, as well as environmental protection and sustainability issues. For example we provide optimal light output in warehouses through good reflection on our mezzanine floor panels, leading to financial savings and increasing sustainability through reduce energy usage.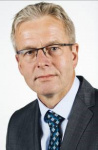 About Bart Pulles
Bart Pulles, 53, has been MiTek Mezzanine Systems' Business Development Manager since September 2019 and is in charge of European sales of mezzanine solutions and accessories within large logistics warehouses. He has a degree in automotive engineering and has been working in the logistics industry since 2014.