In the latest market report by leading industry independent analyst Plimsoll, MiTek Mezzanine Systems has once again achieved the top spot for the supply of mezzanine floors in the UK.
The results for 2020 mark the sixth consecutive year in which MiTek has been the UK market leader. MiTek achieved a 20% market share, up from 19% last year.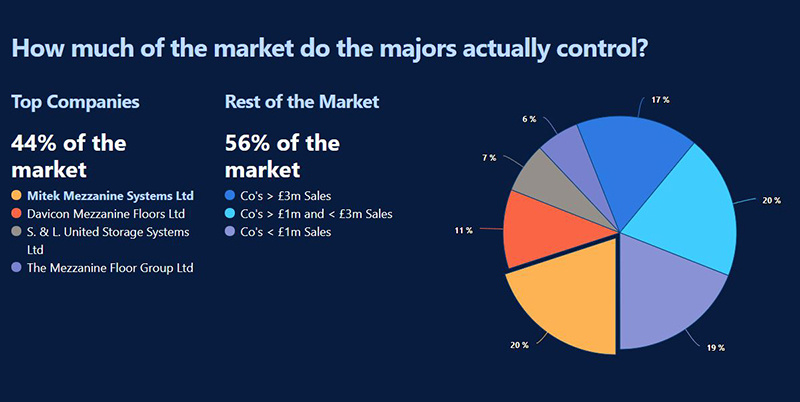 The Plimsoll research also plots the top four mezzanine companies on a chart with axes showing sales growth and financial health improvement, with MiTek Mezzanine Systems achieving the highest position on both measures. As last year, MiTek was the only one of the four major players to achieve a positive figure for sales growth (18%), with the company's competitors suffering falls in sales of between 5 and 17%.
"We are delighted to retain our position as UK market leader," comments Scott Chambers, Managing Director of MiTek Mezzanine Systems. "With severe supply chain issues related to the pandemic and Brexit in 2020, it was a challenging year for everyone. The effort we have been putting into measures to strengthen our business systems and relationships over the past few years has definitely paid dividends."
To mitigate supply issues, MiTek implemented advance ordering procedures and some stockholding of essential materials, which helped to manage capacity and keep projects on track.
"Our resilience, focus on planning and transparency with customers and contractors all played their part in helping us to keep the top spot," continues Scott Chambers. "We are in a really strong position as we head into 2022, so congratulations and sincere thanks to the whole team."