MiTek Mezzanine Systems works alongside the top half dozen system integrators in the world to design and deliver future-proofed mezzanine flooring systems. With the company installing more than 20 bespoke mezzanine systems a week, just what is the secret of its success?
"The service we provide surpasses customer expectations," says Matt Loveday, MiTek Mezzanine Systems' Operations Director. "It's a proven philosophy that has enabled us to grow with our system integrator clients over the past 30 years." Matt Loveday oversees operations to ensure consistent service delivery, from procurement to production and contracts. The son of one of the founding directors of Mezzanine International, he has worked for the company 18 years. "Our acquisition by Mitek three years ago created the first global mezzanine company," he explains, "and we rebranded to MiTek Mezzanine Systems earlier this year. We're the same team – with over 30 years' experience and more than 10,000 mezzanine installations to date – just stronger with the backing of our North American colleagues."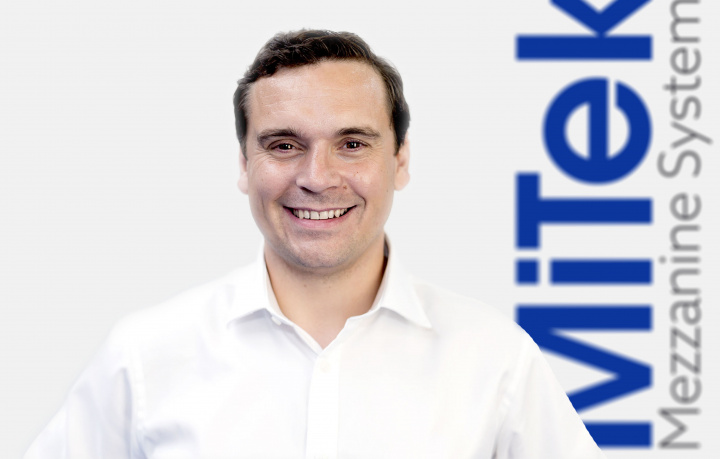 Matt Loveday, Operations Director for MiTek Mezzanine Systems
Global presence
Being the first global mezzanine company enables MiTek Mezzanine Systems to offer customers greater capacity to handle very large projects, securing economies of scale, enhanced access to the latest technologies through shared investment in R&D, and a wider and more unified service network. "These benefits are particularly attractive for our system integrator clients, who value our ability to meet the needs of international brands in a consistent way across borders," says Matt Loveday. "Work for integrators forms a large share of our revenue and this trend is set to continue due to the growth of e-commerce, where there is increasing demand for automation." In addition to its UK office in Kent, the company's Cologne facility provides a strategic location at the heart of Europe.
Quality by design
Part of the appeal to integrators is the company's focus on the strength, stability and quality of its mezzanine structures. Automated equipment, particularly systems handling pallet loads, can be extremely heavy and some devices – such as optical scanners – are highly sensitive to vibration. "Our Mezzanine7 product is up to seven times stronger than a standard mezzanine," explains Matt Loveday, "and it's also more resistant to vibration." This is all underpinned by the company's ISO 9001 and CE marking accreditations, which ensure that quality is guaranteed at every stage, from design to installation.
Agility is key
Although product quality is hugely important, Matt Loveday believes that it is speed and agility that sets MiTek Mezzanine Systems apart. "Integrators often have to modify projects quickly during the project design phase, or even on site. They value our ability to respond rapidly with changes to the mezzanine design, which we can do because we have the software and engineering expertise in house. Our robust supply chain adds an additional layer of agility, helping us to react quickly and efficiently to changes."
On time, every time
Professional project management results in on-time delivery. "We have a reputation for high-speed project delivery, even in phased programmes for large-scale, multi-tier installations," says Loveday. "The faster we can deliver a project, the sooner the end-user can profit from it and the happier our integrator clients are. Being a global business enables us to harness new technologies and enhance our processes to minimise project delivery times."
Local expertise
Another strength of MiTek Mezzanine Systems is that the company is not tied to any one manufacturer. "We partner with local suppliers to ensure rapid response and the most cost-effective solution. With a wealth of approved, international suppliers we can deliver wherever in the world a mezzanine project is based," says Matt Loveday. "Of course, by utilising suppliers local to projects both in the UK and internationally, we minimise our carbon footprint."
Partnership pays
As well as technical expertise in the design of mezzanine floors and ancillary products, MiTek Mezzanine Systems provides a comprehensive service for building regulations approval and fire protection strategy. "Integrators know the level of service they can expect from us," says Loveday, "and, likewise, we get to know the ways in which we can best support them. By working on successive projects for an integrator, we get to know their kit and processes really well and that definitely saves time and reduces risk," he adds.
www.mitek-mezzanine.com
Tel: +44 (0)1732 849900
Email: mezzanine-UK@mii.com